Anne Beaumont, inductee of the Atlantic Agricultural Hall of Fame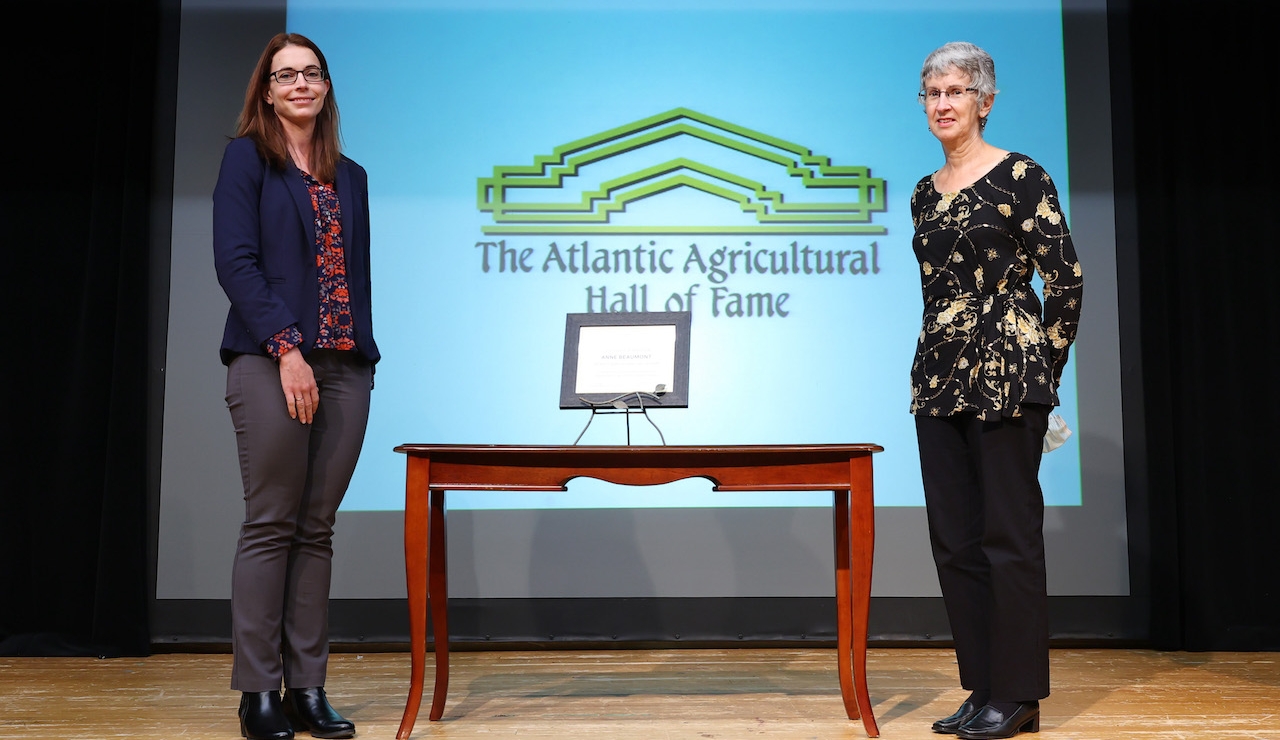 Anne Beaumont, Manager of Nutrition and Quality Assurance, was inducted into the Atlantic Agricultural Hall of Fame on October 21. This distinction is allotted annually to individuals in recognition for their tremendous impact on the Atlantic provinces' agricultural industry.
Growing up on a dairy farm in Sussex, NB, Anne Beaumont learned early on the importance of providing for her family's livestock. This was a foundation that would serve her well during a distinguished profession in animal nutrition. Born in 1959, Anne demonstrated academic excellence throughout high school and post- secondary studies. In 1979 she graduated with honours from the Nova Scotia Agricultural College (NSAC), with an Animal Science Technician Diploma. The following year, she completed the NSAC's Directed Studies Technology Diploma with high honours.
After graduation, Anne was hired as a feed formulator, beginning what would become a long career with Co- Op Atlantic (now Sollio Agriculture). In 1984, she was granted an educational leave to pursue a Bachelor of Science (Agriculture) in Animal Science at Macdonald College at McGill University. She continued working as a feed formulator during her summer breaks, until she graduated in 1987. That year, Anne became Assistant Nutritionist, and supervised the feed lab. She maintained this position until 2014, when she became Manager of Nutrition and Quality Assurance. After celebrating 41 years in the Co-Op feed system, Anne retired in 2021.
Anne is well recognized for her dedication to quality assurance. She was the driving force behind the implementation of assurance programs across the Co-Op/Sollio network of mills in Atlantic Canada. With her extensive experience, she was often called upon as a resource for retail locations. She recently spearheaded HACCP certification for three Sollio mills in Truro, New Minas, and Moncton. Anne was a critical contributor to the development of Co-Op Atlantic's Legacy and Atlantic equine product lines, and was a valuable team member in developing a unified national equine line for Sollio.
Sharing her expertise widely, Anne was a member of numerous professional organizations, including the Animal Nutritional Association of Canada, the New Brunswick Institute of Agrologists, and the Atlantic Poultry Conference. For over 34 years, she chaired or sat on committees of the Cooperative Research Farms. Whether on conference organizing committees or presenting to industry, Anne is well recognized throughout the livestock feed industry for her earnest and humble nature, and as a wealth of knowledge.
As a volunteer, Anne is extensively involved in her church community, providing children's programming and sitting on finance and social committees. She has also been involved with annual children's book fairs through Laubach Literacy NB. As a curler, Anne has competed regionally and nationally for over 40 years.
Congratulations to Anne for this recognition and her exceptional contribution to the agricultural sector.
Cliquez ici pour consulter la version française.
Photo from Dalhousie University : On the right, Anne Beaumont.