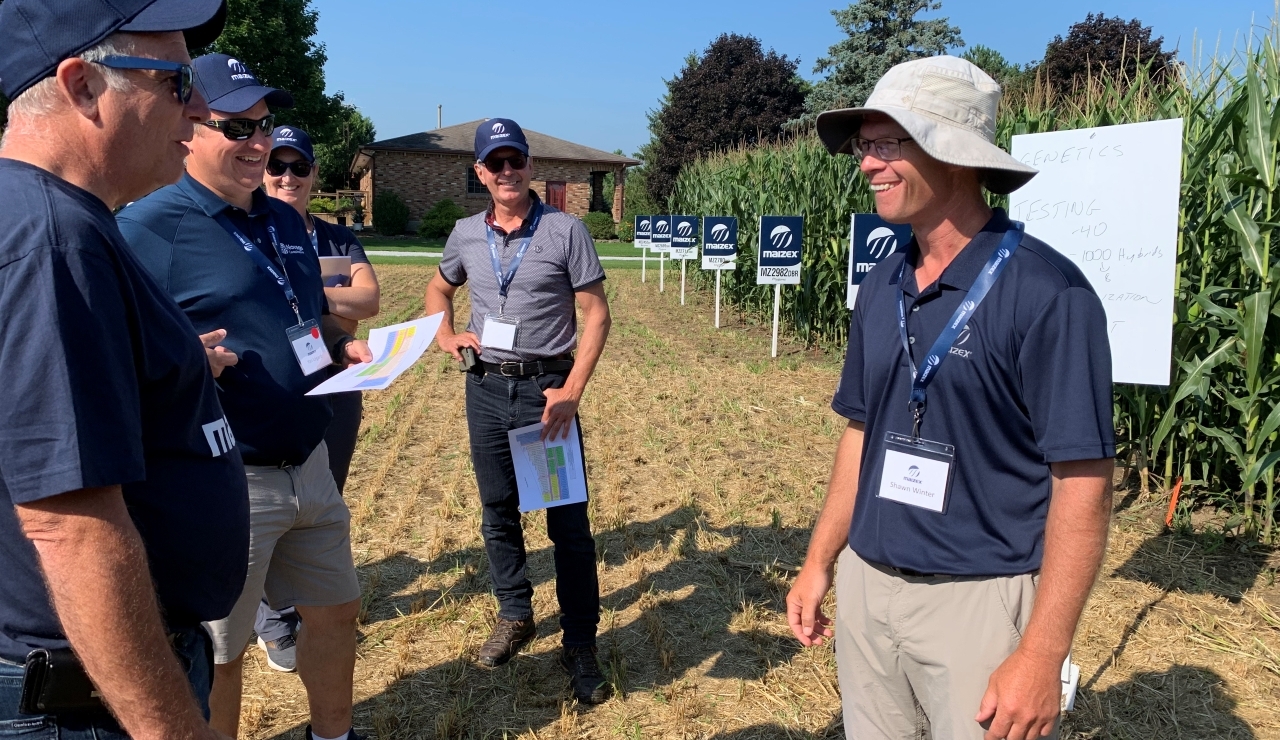 Plot Day, a busy event hosted by Maizex Seeds, saw around 100 agri-advisors take a tour of the company's facilities. The day included visits to Maizex's Blenheim and Tilbury facilities, cornfields and both corn and soybean plots. But first, the participants boarded buses for the trip to Blenheim.
Maizex has two seed sorting and packing plants. At the Blenheim location, the group passed about a dozen small storage silos and the main building, which houses Maizex's genetics laboratory.
The tour stopped for a few minutes in front of a hybrid seed field where Vincent Bourassa, Production Manager at Tilbury, explained in detail the seed production process and the equipment required. This included the mysterious and distressingly named "Male Destruction Equipment," which really got the group talking! If you want to learn more, check out the next article on hybrid seed production.
Corn plots
The agri-advisors then took part in a series of workshops on the family farm of Dave and Brenda Baute, the founders of Maizex. Shawn Winter, Corn Product Development Manager, explained the whole process of whittling down 3,000 test hybrid varieties to eight marketed varieties.
In his talk, Winter also took the opportunity to warn the group about a new leaf disease emerging in Ontario: tar spot. Although it has not yet reached Québec, the disease is slowly moving north, taking advantage of climate change to spread to new areas. Your agri-advisors are honing their skills to detect signs of tar spot now, before it inevitably makes its way to Québec.
Soybean plots
Jeremy Visser, Soybean Product Development Manager, spoke next. He highlighted the extensive expertise of Maizex, Sollio's seed company, explaining that it has no fewer than 40 soybean plots in Manitoba, Ontario and Québec, where it tests soybeans of different maturities and varieties. Between 80 and 100 plots are also being tested by farmers, providing an increasing amount of available data for each variety.
Varieties currently on the market include Badger R2X, Grizzly R2X, Viper R2X and Avalanche XF, which dominate their respective market niches. Several new products featuring Enlist technology will be launched in the fall.
SmartStax® PRO with RNAi technology
The focus then shifted back to corn with a presentation from Patrice Lévesque, Key Account Manager at Bayer CropScience, who talked about some highly futuristic technologies, including SmartStax PRO, the next generation of the SmartStax technology already being used by farmers. The addition of RNAi technology gives the product a different mode of action to kill insect pests. Rather than having an immediate effect, the product works on different larval stages, destroying a protein unique to the target beetle. The RNAi technology slowly degrades the insect at a cellular level, causing it to die. SmartStax PRO is expected to hit the market for use on seedlings in 2024.
Corn architecture
The day was rounded off by Pascal Larose, Head of Agronomy and Product Marketing at Maizex Seeds. Mid-August was the perfect time in the southern-Ontario climate to showcase the architecture of some fully mature corn plants.
Simply put, architecture is the way the plant and its leaves stand up. The hybrid variety MZ 2982DBR, for example, is very upright. Its leaves are much less likely to droop around the base, allowing sunlight to reach further down the stalk. This provides optimal conditions for photosynthesis, as the plant can absorb as much light as possible. This can potentially lead to higher yields.
However, Larose pointed out that it all depends on the farm's soil. For example, MZ 3117DBR has an architecture with more drooping leaves, which might lead us to believe that it is less able to photosynthesize. However, this also gives the plant an important side benefit: it reduces evaporation by providing more shade to the soil. For light, rocky soils, this variety would actually be a better choice.
Of course, there is a wide range of hybrids along the entire architecture spectrum, from more upright to more drooping. Nevertheless, Larose encouraged the agri-advisors to consider adding these smaller technical details to their checklist when choosing hybrids.
---

"Maizex Seeds' Plot Day" is part of the special report "Maizex Seeds, Sollio's seed producer" published in the Coopérateur in october 2023.
To read all the special report :

Picture taken by Stéphanie McDuff