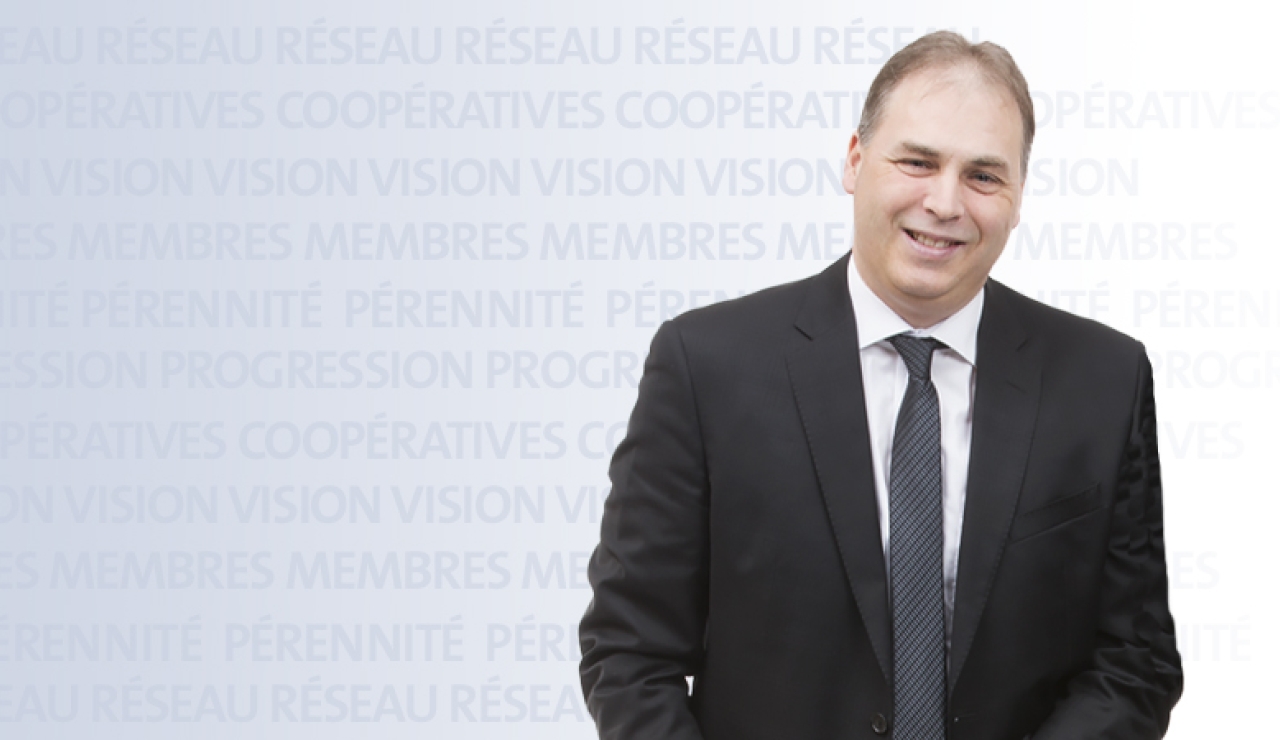 The disruptions resulting from COVID-19 are too many to count. However, one thing is certain, society will be feeling its repercussions through our habits, ways of doing things as well as our behaviours for many months to come. This crisis will leave its mark. We still don't know what these effects will be or how extensive they are since they have yet to be determined. One thing is sure though, we will get through it. Together. We have a strong and united network fighting the same battle.
As I am writing these lines, the world has basically stopped. However, the government has recognised Sollio Groupe Coopératif as an essential service. So we are working very hard to maintain services for our members and our clients. Sollio Agriculture, Olymel and BMR are doing the best they can to support their producers as they pursue their vital, if not critical activities. As you may have read in various media, providing support is not always easy. Olymel had to temporarily close its Yamachiche plant due to several cases of COVID-19. However, this won't keep the company from supplying local merchants, which is already a significant challenge, not to mention keeping its employees safe and maintaining an adequate production level while also taking into consideration how each decision impacts the value chain.
As we approach sowing season, which is usually a short, but very intense period for producers, there has been substantial effort required and deployed, including a complicated set of logistics, to ensure ongoing activities. We are working just as hard and doing just as much for the animal sector. Agricultural families are counting on us and we are here to answer their call.
Our commitment and mobilisation efforts reflect the values that inspire our network, and that now more than ever, take on their full meaning: benevolence, accountability, and support. Thanks to our cooperatives and to our three divisions – such as BMR, which provides a lot of farming equipment, particularly to maple syrup producers as the sugaring off period is upon us – we're here to be supportive, across the countryside, to assist our producers and all of our establishment's employees who are keeping their nose to the grindstone and feeling the effects of this crisis. Your health and the health of your families are our priority.
Our governments and several other organisations have been proactive and are taking necessary and concrete actions to try and end this crisis. The entire bio-food industry is working hard, and in an exemplary fashion, to continue to feed the population, which is primarily confined in these exceptional and difficult times. As for us, we are deploying all of the necessary effort and making all of the required announcements and changes on a daily basis.
Producers are not exempt from the outcome of COVID-19. As we enter this rather intense period, I can only ask you to be extremely vigilant and respect all recommended instructions.
Since last November, our sector has dealt with a difficult harvest, a CN strike, a railway blockade and now, the COVID-19 pandemic. It's important that you know that we are always here for you and we are proud of our contribution in feeding the world. Our resilience is being put to the test, and that's why it's important to take care of yourself and your loved ones.
We are all in solution mode. I know that our network, just like the rest of society, will come out of this crisis stronger, more united and more supportive than ever.