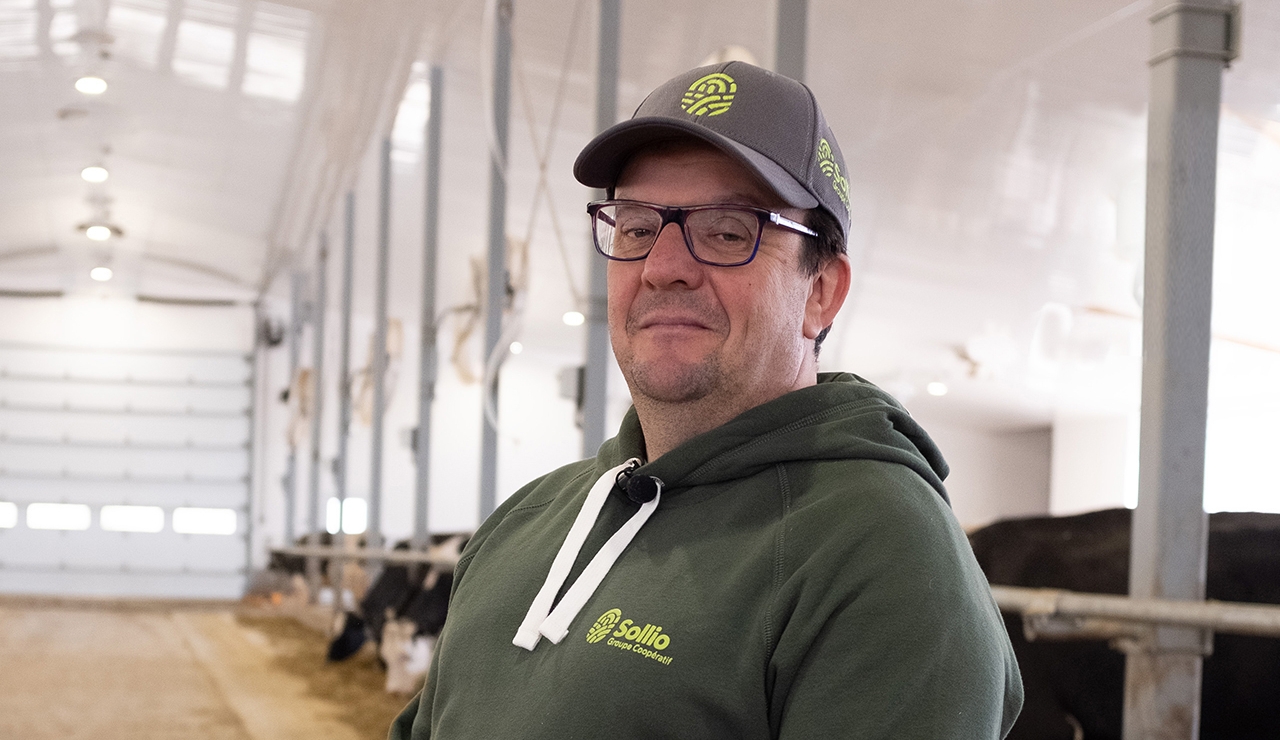 Hello,
For those who don't know me, let me introduce myself: Richard Ferland, sixth-generation dairy and field crop farmer in Beauce, husband of Odette Desrosiers, and father of a "small society" of nine children. I'm fortunate that two of my children have shown an interest in agriculture. Pierre is taking over our business, Ferme de la Cavée, and Thomas has launched a maple syrup operation.
I got my start in a cooperative network in 1998, at La Coop Unicoop, where I served as vice-president and then president. I joined the Board of Directors of Sollio Cooperative Group in 2014. So I will be putting my 25 years of experience to good use when I take the reins as president of our great cooperative.
I feel honoured to have been elected, and a great sense of responsibility as well. The scope of the job reflects the economic importance of the agricultural cooperative movement. I am beginning this new role with humility and a clear sense of the challenges ahead. But I also know that I can count on the solidarity, experience, and competence of Sollio Cooperative Group's directors, managers, and employees, and its network of affiliated cooperatives, as we together embark on our next one hundred years.
I would like to thank my predecessor, Ghislain Gervais, for all his hard work, dedication to the Cooperative and unflagging efforts in support of farmers over his seven-year term as president. And I would be remiss not to mention the devotion of outgoing vice-presidents Jean-Philippe Côté, who will continue to serve as a director at VIVACO groupe coopératif, and Muriel Dubois, the first female vice-president in our organization's history. Their commitment to our cooperative and their agricultural expertise have been invaluable. I thank them for their vital contributions, and wish them every success in their future endeavours.
I am delighted to welcome to the Board two new vice-presidents, David Mercier and Jean Bissonnette, and three new faces: Jeannine Chartrand, who is also president of Covris coopérative, Jean-François Roy, a director of VIVACO groupe coopératif, and Paule Têtu, invited director, who will hold a newly created Board seat. Their election demonstrates their commitment to our organization and their desire to play an active role in making important decisions.
As we all know, the current situation is difficult. The decisions we make in the months and years ahead could redefine agriculture in Quebec. Three major challenges will be the focus of the Board's and my attention in the first 100 days of my new term.
Restructure pork production in Quebec to create a profitable value chain. The pork industry requires an overhaul to better meet the expectations of all stakeholders. The goal is to secure the future of pork production in Quebec. Achieving it will require making brave decisions together with all industry stakeholders and every level of government.
Undertake a new strategic planning process for the entire organization, including all three divisions. Our last strategic plan dates back to early 2019, and unfortunately has not proven equal to the turbulence of the last three years.
Pursue our optimization and recovery plan. We have a solid plan in place that is already proving its value. Now, we must stay the course in order to achieve our objectives.
For one hundred years, we have been the guardians of the cooperative heritage and its working model. Now, our duty is to preserve and, above all, to strengthen it—for the regions, for farming families, as a means of creating wealth for them and ensuring a sustainable future for the world. Since the past offers clues to what the future holds, I can assure you that Sollio Cooperative Group and its affiliated cooperatives intend to stand beside you as we turn today's challenges into opportunities. Together, we can achieve great things!